"

Play Your Guitar Better Than Ever… with these handy movable visual charts to locate any chords and notes, easy and fast !

"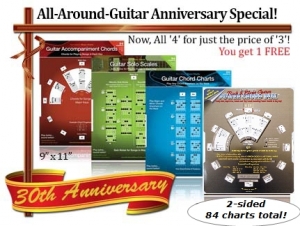 All-Around Guitar Players…
Get this complete Music Charts '4-pack' and pay for 'only 3'!
Grab all 4 – Accompaniment, Solo, Chords, including Rock & Blues Power Chords…
2-sided movable dials that include a total of 84 charts…
A $59.96 Value…
Today You Save 25%!
Only $44.97
---
Guitar Accompaniment Chords
Only $14.99
---
---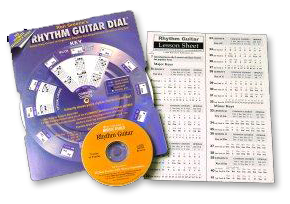 Order Rhythm Guitar
Digital Download Package
This all time best seller 1992 Rhythm Guitar Dial has been out of print and unavailable for several years… It's now available to you in this digital PDF/MP3 download package.
Only $7.95!
Rhythm Guitar Digital Download Package Includes 4 Items:
Rhythm Guitar Dial in a 13 page Digital Download PDF format.
The complete content scanned in digital format from our all time best selling Rhythm Guitar Dial (now out of print) in every Key setting.
Complete Audio Mp3.
12 easy Lessons and 26 Jam Tracks in all of the popular keys. (over an hour of audio)
Lesson Sheet in PDF format.
Play along with the Mp3 audio Jam Tracks.
FREE BONUS…

Your Free Musical Reference Guide in a 12 page PDF format.
Rhythm Guitar Dial
in a Digital Download Package
Only $7.95!